The Passing of MWHS Founder and Ski Industry Legend
Mike Wiegele 1938-2021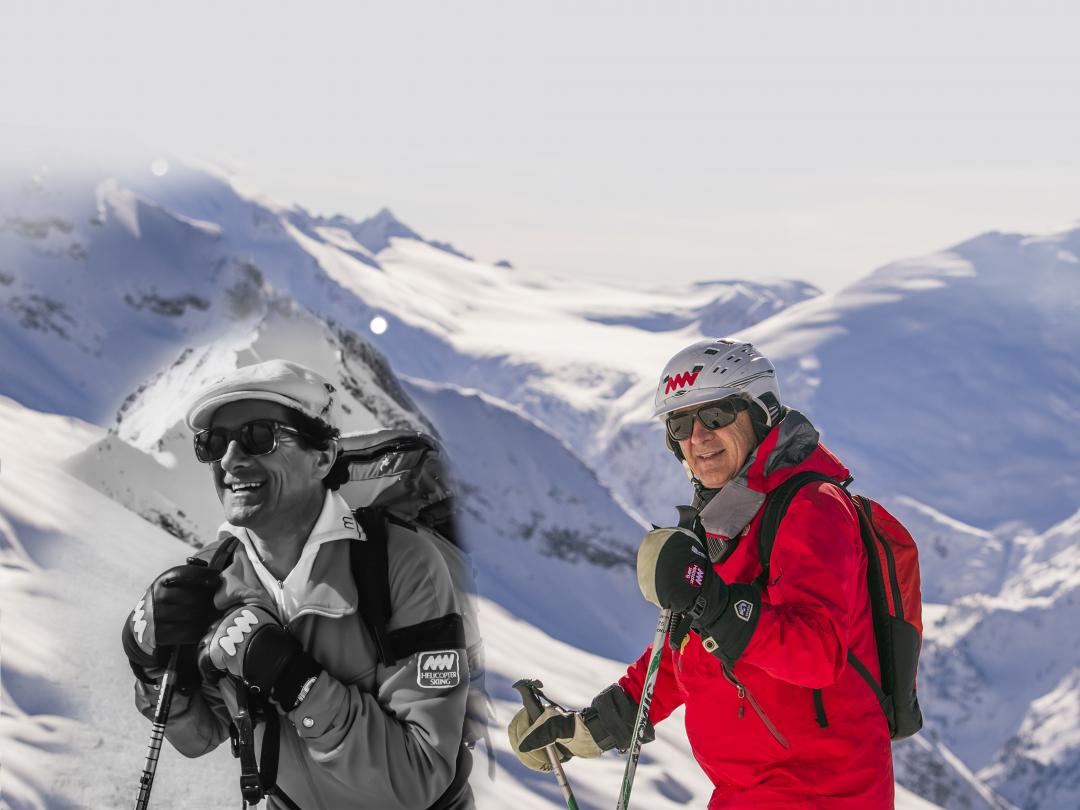 July 15, 2021
Blue River, British Columbia
Mike Wiegele, whose passion and gritty determination both created and fulfilled the world's heliskiing dreams for more than 50 years, has died aged 82. 
The entire team of Mike Wiegele Helicopter Skiing (MWHS) extend their deepest sympathies to the Wiegele family, most notably Mike's wife Bonnie, their daughter Michelle and their grandson Charlie.
Mike's close and enduring relationships stretched to a broad community of colleagues, guests and friends from all walks of life, whose kinships were regularly forged on skis, on bikes, and on hikes up mountain trails. On behalf of the entire staff of MWHS, we extend condolences to all those connected to Mike across Canada and around the world. 
A humble farm boy from Austria, Mike emigrated to Canada in 1959 to chase his ski dreams. Arriving with no English, he first was employed as a carpenter-builder, a harbinger of things to come. After working as a ski instructor at Mont Tremblant and Sugar Bowl, with ski racing and "real mountains" in his DNA, he soon moved West. Mike went from instructor to director of Lake Louise Ski School at lightning speed. It was there he met and, in 1967, married Bonnie Derome, an accomplished athlete and astute businesswoman who would be pivotal in building their future enterprise. 
At the heart of it all was a visceral love for skiing. In 1976, Bonnie and Mike started the Banff Quikies which evolved into Banff Alpine Racers, growing from seven young racers to 500 over the first five years. His coaching at Lake Louise Ski Club produced six National Team athletes. This enthusiasm for all things skiing was at the core of Mike's long life. 
"When I raced in Austria and later in Canada, I always went skiing after the race was done," he relayed to one those students, World Cup and Olympic medalist Ken Read, on receipt of the Honoured Lifetime Builder Award from the Canadian Rockies Ski Racing Hall of Fame. "At the end of the season, my friends would call me to come to the year-end banquets where I would receive all these trophies, because I had missed the awards ceremonies as I was out skiing after every race. I just loved it so much!"
His passion for life on skis, combined with being a fearless entrepreneur, led Mike to the mountains of British Columbia—the perfect place for the new sport of helicopter skiing. In 1970, Mike offered his first heli-skiing trip in Valemount, BC: despite attracting no guests, he remained undeterred. "I thought he was a little bit cuckoo," said Bonnie of his early plans. "He was always a bit of a dreamer, and it was his dream to ski in these mountains." 
Mike would soon establish Blue River, BC as base for Mike Wiegele Helicopter Skiing, an enterprise which, over five decades, he marshalled into an industry leading, internationally renowned resort. In 1978, he launched the Powder 8 World Championships and a decade later was instrumental in bringing fat ski technology to the people. His drive and innovation established many of the foundations the heliski industry, and his commitment to safety led to the establishment of many industry standards and an important avalanche research programme in conjunction with University of Calgary. In 1990, he established the Canadian Ski Guides Association, opening the door for Canadians to train as heliski guides. 
Among numerous commendations awarded him: The Bravery Award from the Governor General of Canada; The Marshall Award for Excellence from Canada West Ski Areas Association for outstanding contribution to the betterment of the ski industry; the Honour Roll of Canadian Skiing for outstanding contributions to the growth and development of skiing in Canada; Hall of Fame from the Canadian Ski Instructor Alliance; Banff Sports Hall of Fame; Austria's prestigious Goldenes Verdienstzeichen Gold Medal. In 2019, Thompson Rivers University awarded Mike an Honorary Doctor of Laws Degree.
In 2019, under Mike's leadership, MWHS celebrated its 50th anniversary. In advance of this milestone, Mike hand-picked and trained a management team to lead the company into the next 50 years, ensuring his dream, his passion for safety and his high standard for customer service would continue. 
Competitor, coach, pioneer, entrepreneur, husband, father, and man of the mountains. We remember the motto by which Mike lived his life, and we carry it with us in our hearts and into the mountains.
"Let's Go Skiing"
To share memories and condolences, see below.
The Mike Wiegele Avalanche Association Fund

In lieu of alternative expressions of condolence, and to ensure Mike's legacy and dedication to safety in the mountains continues, the Wiegele family has established the Mike Wiegele Avalanche Association Fund.  This fund will support safety and loss prevention through avalanche research by either funding or supporting individuals or groups advancing meaningful research to benefit the avalanche community.  It will be administered by a Board of Directors made up of members of the Wiegele Family and senior MWHS Management.  Mike's family would appreciate you honouring him through a contribution to this fund. 
Media Contact

Bob Sayer
bsayer@wiegele.com

Elias Ortner
elias@wiegele.com

Image resources are available to download here:
Leave your Condolences
Please note your condolence submission will be delayed for moderation.
Condolences