Frequently Asked Heli-Ski Questions
What would you like to know?
Many of our guests, new heli-skiers and experienced powder hounds alike, have questions about MWHS heli-skiing and snowboarding adventures. We have your answers.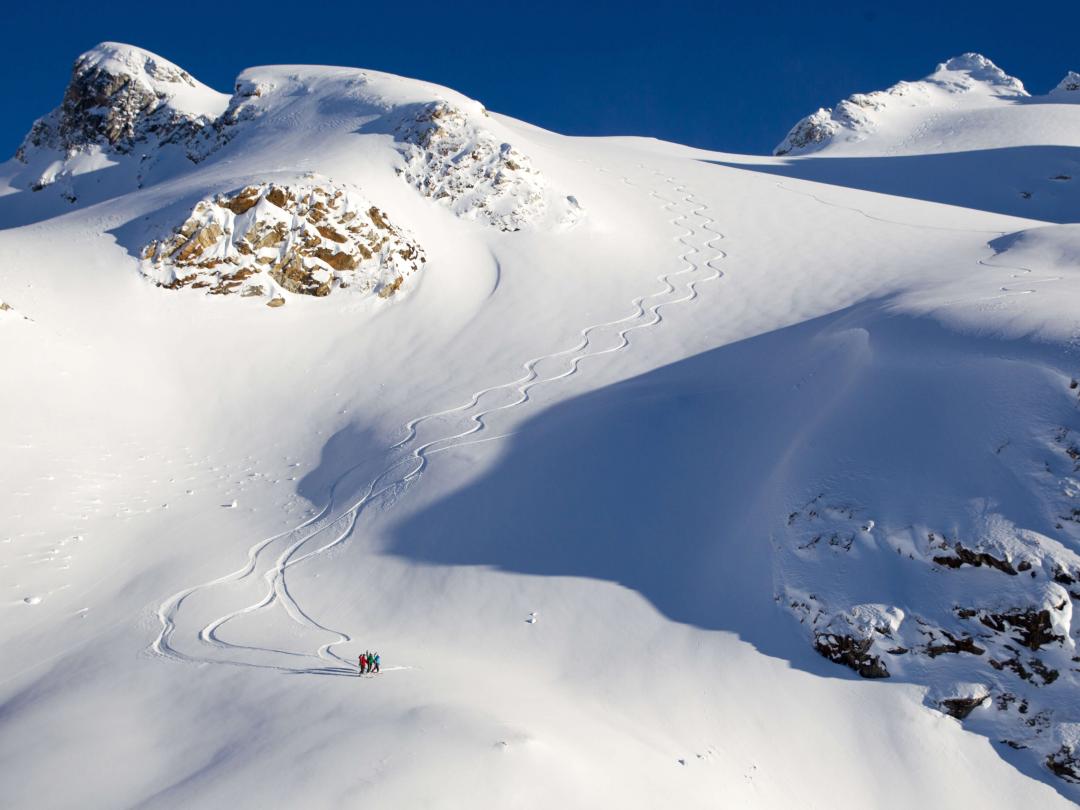 What type of skier/boarder should I be?

You don't need to be an expert to go helicopter skiing, but in order to safely enjoy your vacation you should be at least an intermediate level skier/boarder. You should be capable of dealing with the challenges presented by deep snow, helicopter transportation and backcountry descents. If you are a good intermediate skier/boarder who is able to ski/board every run in a major ski area you are ready to come heli skiing.  First-timers and less advanced skiers/boarders are encouraged to develop their powder and backcountry skills with a snowcat or snowcat & helicopter combo package.

Super Elite and Elite packages aim to please the experienced heli-skiers who are accustomed to deep powder and want a faster-paced, more challenging day.  We reserve these packages for returning guests or people who we know have experienced helicopter skiing or backcountry skiing in the past. If a guest is unable to keep up in the Super Elite or Elite program we will move them into the Deluxe program if necessary.
What does "unlimited vertical" mean? Why is this an advantage?

At Mike Wiegele Helicopter Skiing we offer Unlimited Vertical in our Deluxe, Super Elite and Elite heli-ski packages, meaning that you ski/board as much as possible every day and never pay additional fees. Our packages are inclusive of a guaranteed vertical amount and, almost always, we exceed this amount... at no extra cost to you (daily skiing possibilities are dependent on weather conditions). Unlike other operators, we do not charge more if you ski beyond your guaranteed vertical; extra vertical charges can add up very quickly and become costly when you are enjoying what you love. There are no hidden costs at Mike Wiegele Helicopter Skiing – our passion is powder skiing/boarding and we ski more to maximize your enjoyment and skiing/boarding time.
What is included with my package at Mike Wiegele Helicopter Skiing?
Unlimited Vertical (Deluxe, Super Elite and Elite packages)

All powder-specific ski & snowboard equipment

Professional ski guiding and instruction

Accommodation in hand-crafted log chalets (Single/Double Occupancy)

Access to a common area and kitchenette in every room

3 gourmet meals every day (gourmet bagged lunches are in the helicopter for you)

Use of lodge facilities such as gym, sauna, hot tub, games room, and climbing wall

Cross country skis, snowshoes, and  ice skates are also available
How are the skiers/snowboarders divided into groups?

We ask you to complete The Heli-ski Questionnaire prior to your arrival. It identifies  your weight, ability level, if you are coming with a group, and which factors are most important for your enjoyment. This assists in determining  which ski group will be best for you.  Wherever possible, we ensure friends and family ski together based on the above factors.  Guides also form groups based on the total weight of each group for helicopter safety reasons. Groups may be adjusted throughout the week to ensure optimally-balanced ability levels and personality matches. Mike Wiegele Helicopter Skiing reserves the right to form groups based on ability level, weight, and group requests.
How much will I ski/snowboard each day?

Typically we ski/board 8-15 runs, approximately 15,000- 25,000 vertical feet, each day. The length of the skiing day, number of runs, and terrain selection are determined by snow conditions, weather, time of year, and the group's abilities. In the early season the days are shorter and the snow is often deep. This leads to the world's best tree skiing and an increased number of shorter distance runs. Later in the season when the daylight lasts longer and the snow stability has increased, we enjoy more glacier skiing options and will often ski from the peaks to the valley floor; this leads to long runs lasting thousands of vertical feet each
Do I have to ski/snowboard all day?

Village if the pilot can coordinate your flight out with the fuel run. Please advise your guide in advance if you only plan to ski a partial day. Please note you will not be refunded if you do not make the guaranteed vertical if you choose to opt out of skiing.
What should I wear?

Dress as you would for a cold day at a ski resort - waterproof technical outerwear with layers underneath is best for powder skiing and variable weather. We encourage helmets but they are not mandatory. We supply shovel packs that include a shovel and probe but you may use your own small backpack to hold your personal items and safety gear. Personal items cannot be left in the helicopter while skiing. Bonnie's Boutique and the Sport Shop are stocked with everything you would need for your trip, including skiing-specific socks, breathable base layers, outer layers, GoreTex shells, hats/helmets, mitts/gloves, goggles and more!
Do I jump out of a helicopter?

No. Although some guests would find that exciting, our pilots and guides make sure that the helicopter always has a safe landing place. During your safety training we will review proper helicopter entry and exit procedures, and your guide will be responsible for loading and unloading your skis/board for each lift.
What about my children-can they ski too?

Yes, intermediate skiers of all ages are welcome to come heli-skiing. They are also welcome in the Off Piste package, and we also have holiday Kids Camps scheduled at Christmas and in the Spring. If you want to bring your children but they are too young to ski, please be advised that we do not provide childcare.
What kind of fitness training can I do to prepare?

In order to fully enjoy your heli ski/board vacation you should attempt to maintain a healthy, active lifestyle year-round. Appropriate off-season training includes cardiovascular exercise with stretching and strength training to increase endurance with particular attention to your legs with squats and lunges. Developing strength and balance through a regular fitness routine, yoga, Pilates or the T-Bow will help to improve your skiing ability. It would be in your best interest to ski some full days and possibly take a lesson to tune up your technique prior to arrival.
Do I need to bring my own equipment?

Powder-specific ski and board equipment is included in your package. Choose from a wide selection of Atomic Skis, Volkl, DPS, Black Diamond, Head, Salomon and Armada models. Choose from a selection of Burton, Capita and Spring Break snowboards that are perfectly suited to our powder terrain. We also carry Atomic telemark skis. Our knowledgeable Sport Shop staff will help you with your selection and the equipment will be fitted accordingly. Equipment is tuned and waxed each day for maximum performance. We also offer a selection of ski boots and snowboard boots; however, most guests prefer to bring their own. We highly recommend that you carry your boots as hand luggage during your travels to Blue River.
How do you keep me safe and manage avalanche risks?

Traveling safely in the mountains requires that we balance excitement and challenge with your safety and comfort.

We approach safety in a multi-faceted way that includes guest and guide training, helicopter maintenance, on-site doctors, sophisticated weather analysis and avalanche forecasting. Safety is our #1 priority!

Each guest watches our safety video, completes guided transceiver training, and attends a helicopter orientation session with a pilot. Transceivers are provided and training on how to avoid avalanche paths, and how to search, probe and dig out buried people. Guides and guests also carry backpacks with shovels and probes.

Helicopter maintenance also keeps you safe – our heated hangar allows engineers to take their time in comfort while they expertly service and maintain the large fleet of helicopters. Yellowhead Helicopters provide experienced pilots that specifically train for mountain terrain.

All guides are trained in first aid and a medical clinic is located in the Guides Haus. It is well equipped to meet the medical needs of our skiing guests. A doctor is also on the resort throughout the heli-skiing season. They are also trained heli-ski guides and ski with guests and can respond to emergencies in the mountains quickly. They are also available for after-skiing care.

Our fully trained and certified Heli-ski Guides gather information from our weather stations, snowpit data and historical data, to make optimal terrain selection that will reduce the risk of exposure to avalanches.

We would be happy to discuss hazard awareness and prevention in more detail, and can connect you with Senior Lead Guides for more information.
Do you sell avalanche airbag backpacks? Do I need to wear one?

Yes, our Sport Shop has a variety of airbags and canisters available for purchase.

Use of airbag packs is a decision we leave up to our guests.

Mike Wiegele Helicopter Skiing does not rent airbags. If you have your own airbag, please note that transportation of these bags to and from Blue River must follow FDAA instructions. Please contact your airline for additional information.
Can I come if I don't ski? What will I do?

Yes. Besides the relaxation in your winter wonderland chalet, there are plenty of other activities such as snowshoeing, ice skating or cross-country skiing that you can take advantage of. Complementary equipment is available in our Sport Shop. All guests are welcome to use the resort facilities including our fitness centre, indoor hot tub, climbing wall, and massage therapy services.