Our Family
"Colleagues" seems a little formal
We're a family-owned and operated business, but our idea of family goes beyond just the Wiegele name and into everything we do. It comes out in the way we treat our guests, the way we treat the mountains we call home, and in the way we treat each other. It's the reason we have some of the longest serving guides and most loyal guests in the industry. Welcome to the family.
FOUNDER, OWNER & GUIDE

Mike Wiegele

For decades, he shared his love for the mountains with a passionate group of people who help bring our guests dreams to life. Every one of our guides has proven they are among the most qualified skiers, instructors and first-aiders in the world. And every member of our staff have set themselves apart through their professional skills and dedication to our guests. But, most importantly, everyone here has earned the trust and friendship of our entire team with their personalities. Get to know the people who make Mike Wiegele Helicopter Skiing possible.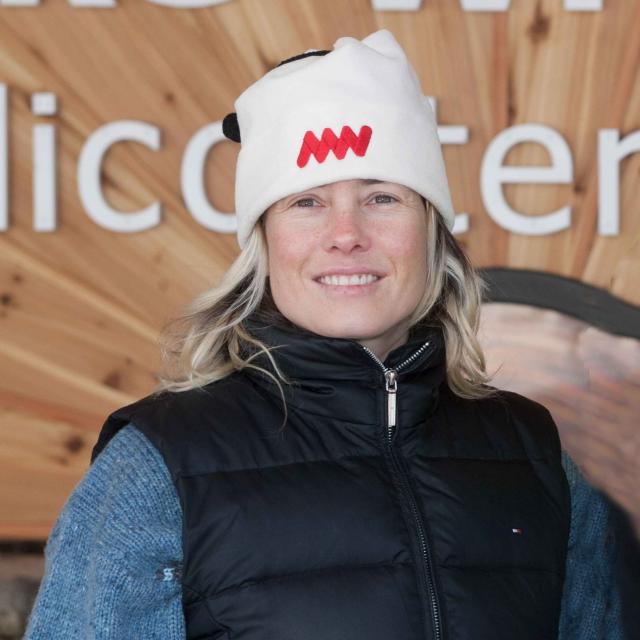 Owner/Operator/President
Michelle Wiegele
Born with skiing in her blood, Michelle feels most alive with a board strapped to her feet on a powder slope. She has been an instrumental part of the creation of MWHS over the many years and now finds keen interest in the snow science industry. It is not uncommon to find Michelle circulating the dining room regularly meeting and greeting guests with her amazing positive energy that she derives from the mountains she loves.
General Manager, Director of Ski Operations & Senior Lead Heli-Ski Guide
Elias Ortner
Born and raised in Austria, Elias naturally began his love of ski at age 3. In 1997 he started working in the ski industry in Salzburg and soon learned of Mike Wiegele Helicopter Skiing, and it was an instinctive move to Wiegele World in 2007. Assisting with the guest grouping, organizing the guiding department as Assistant Operations Manager and finally leading the ski operations as Guiding Operations Manager are some of the roles that lead him to his current position as General Manager of MWHS. Known for his calm and easy-going demeanour while skiing, Elias names Harrison Glacier as his favourite run because of it's high alpine start that runs to the valley floor in the trees – 4000 vertical feet.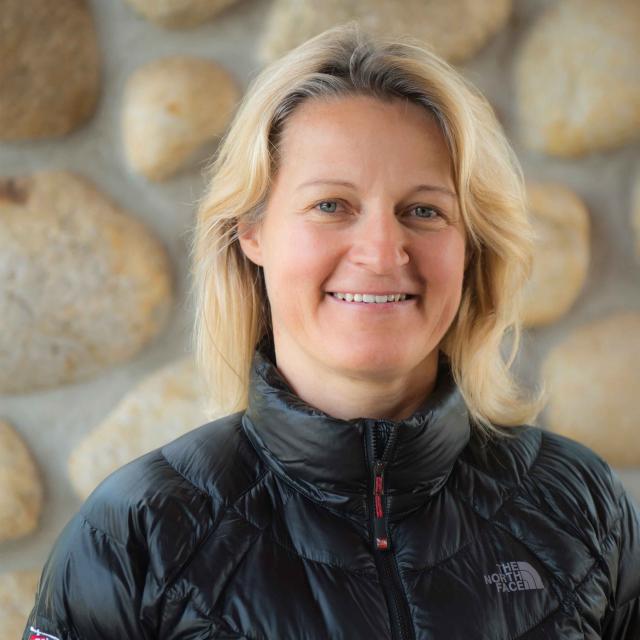 Sales & Guest Relations Manager
Daniela Aufschnaiter
Since 1994, Daniela has been part of the extended Wiegele heli-ski family. After growing up skiing in Austria and completing a tourism degree, she flew to Canada, backpacked around BC and met her late husband Andy. Over the years Daniela has been a key part of many departments within MWHS. Throughout the ski season, Daniela looks forward to welcoming guests to the Wiegele experience.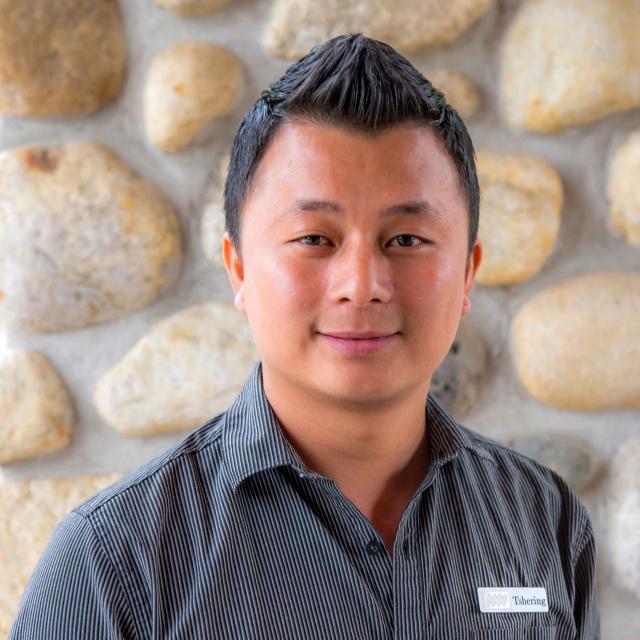 Reservations Supervisor
Tshering Tobgay
Born and raised in Bhutan, Tshering moved to BC to pursue his degree in Tourism Management. His love for travel, photography and the outdoors brought him to Blue River where he keeps everything running perfect behind the scenes. He declares that the secret to staying calm and happy is meditation…and powder skiing does the job too.
Assistant Director of Ski Operations & Senior Lead Heli-Ski Guide
Bill Mark
Born and raised in the mountains of New Zealand, Bill's passion for the mountains and skiing eventually brought him to Canada. Bill has an impressive history of involvement within the Avalanche Safety Industry including being a past president of the Canadian Avalanche Association. It was a natural progression to heli-ski guiding when he finally moved to Wiegele World in 1999. Besides being known for his kiwi accent or supernatural ability to sniff out the best powder, he can also make the best latte in the Guides Haus.
Advisor to Operations & Senior Lead Heli-ski Guide
Bob Sayer
Bob's Wiegele story starts when he was 18 years old, walking out of a theatre after seeing MWHS featured in a Warren Miller movie saying "that's what I want to be when I grow up." While ski patrolling, he entered and won the Canadian Powder Championships at Wiegele World in 1987 and never left. He is as equally skilled on his Burton Fish snowboard as he is on his Atomic Ritual skis and often guides on both. In the summer months he can be found running & biking up mountains and swimming in lakes training for the next triathlon.
Senior Lead Heli-ski Guide & Chief Avalanche Forecaster
Bob Rankin
Bob spent his youth ski racing in Lake Louise and later began ski patrolling at Mt. Norquay where his path finally crossed with Mike Wiegele. Deciding he liked powder more than moguls, Bob pursued a career as a heli-ski guide following Mike to Blue River in 1990. A few fun highlights over the years includes guiding and skiing in a few Warren Miller movies and ski stunt doubling for Hollywood flicks. He is truly humble when he speaks of these experiences and he is most happy when he is in the mountains skiing and sharing his secret lines with his guests.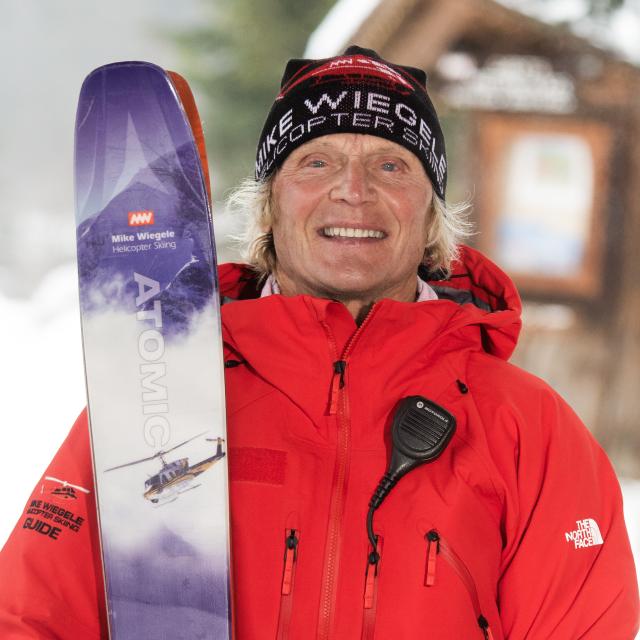 Senior Lead Heli-ski Guide
Erich Schadinger
Not only has Erich skied all over the world, but also he has been with MWHS since 1978! He provides a wealth of knowledge and experience to his guests and has a deep passion for the outdoors. His favourite run is Cobra, but he can't tell you why – it is top secret and you have to ski it with him to know why.
Senior Lead Heli-ski Guide
Mike Hainault
Skiing since he was 9 years old in his home resort of Camp Fortune, Mike began his skiing career as an elite level coach and ski instructor. After skiing 4 different continents it was apparent the best powder stashes were in Wiegele World where he finally joined the family in 2000. His love is shared between powder and dirt and he spends his summers mountain biking.
Senior Lead Heli-Ski Guide
Crosby Johnston
Crosby first came to Wiegele World in 2000 with the intention to play for a season but fell in love with everything about it and began immediately training to become a heli-ski guide. Lots of dedication and hard work later, he is now an accomplished IFMFA/ACMG Mountain Guide and a CSGA III heli-ski guide and has racked up millions of vertical feet of heli-skiing over the years. Crosby is a very mindful leader and strives to help everyone find his or her limits in a safe and fun environment.
Senior Lead Heli-Ski Guide
Scott Streadwick
Growing up skiing in Jasper and now owning a whitewater raft business in Clearwater, Scott is a local to the Yellowhead Valley. At the young age of 8 he got his first experience in the mountains of Blue River. Ski touring with his family at the Monashee Chalet, the sound of nearby helicopters unknowingly influenced his career path into guiding starting at MWHS in 2002. From an education in tourism management to guiding skiing and rafting, Scott's desire for the outdoors is obvious.
Senior Lead Heli-Ski Guide
Jordan Stiefvater
Raised within the family run hotel on Vancouver Island, hospitality was ingrained in Jordan, which in turn makes him one of the most congenial heli-ski guides in Wiegele World. After completing the Ski Resort Operations & Management Course in 2005, he journeyed to the peaks of Blue River and began his guiding career. Even after more than 10 years here, he can't settle on his all-time favourite run as a new one is discovered every season.
Senior Lead Heli-Ski Guide
Jason Martin
Growing up in Ontario and skiing since the young age of 3, Jason remembers always seeing Wiegele articles in Ski Canada Magazines when he would fly out West for the annual family ski trips. After ski instructing, ski race coaching and completing the Ski Resort Operations and Management program at Selkirk College in Nelson, Jason found his new home in Blue River as a heliski guide in 2006. Jason can always be found smiling, sporting a "no stress" attitude and wearing flip flops all year long.
Lead Heli-ski Guide
Jenny Citherlet
Born and raised in Switzerland, Jenny started skiing at the young age of 3 and has been in love with the sport and the mountains ever since. Jenny has been sharing her passion and enthusiasm now as a heli-ski guide in Wiegele World since 2006. Her quick-witted sense of humour and powerful skiing ability make her a fun and fast guide to follow through the mountains.
Lead Heli-Ski Guide
Willy Rens
Willy was born and raised in Belgium, but his love for adventure has taken him worldwide. He has adventure tour biked through numerous countries, including Africa, Alaska, Australia, India, Pakistan, and several European countries. This love for adventure ultimately brought him to British Columbia, where he joined the Wiegele World family in 2005. Willy has a combined 33 years of ski instructing/guiding in the European Alps and British Columbian mountains. He has even guided the British and Canadian military for winter survival training. If he's not flying through the snow on his skis, you'll find him soaring through the sky with his paraglider.
Lead Heli-Ski Guide
Riel MacBoudreau
Born and raised locally in Clearwater BC, Riel started skiing at the age of 3 and grew up exploring the backcountry of the North Thompson Valley. Riel had the opportunity to ski at Wiegeles as a young teenager and fell in love with the dream of becoming a heli-ski guide. After spending a few years starting out as a tail guide at ski-touring lodges, life brought him back to Blue River in 2013 where he began his heli-ski guiding career and has returned each winter ever since. Riel can be found in the off-season just down the road working on his family's farm and as a carpenter in Clearwater, BC.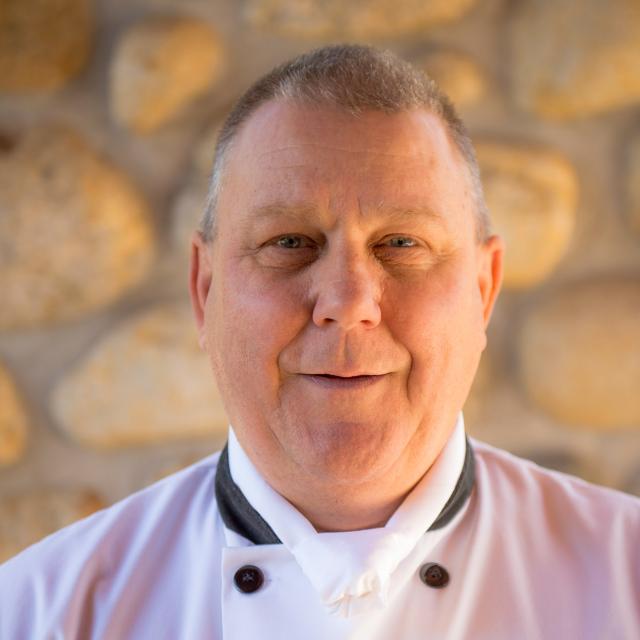 Executive Chef
Toni Spori
Moving to Canada from Switzerland, Toni joined the Wiegele family in 1990. Since then he has been successfully elevating our fine dining to the highest level. He is passionate about food and is on the pulse of new food trends. Toni's delicious meals are pleasantly responsible for what our guests refer to as the "Wiegele heli-belly"; it is so good, you just keep going back for more! During the summer months, he is happily travelling and riding his Harley.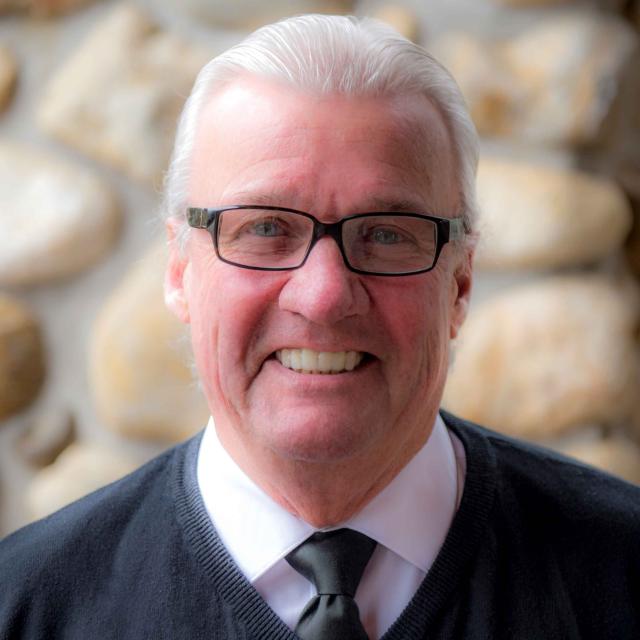 Maitre D'Hotel
Romain Gagne
You know you are in the best hands when Romain is serving you. Since joining our family in 1996, he has experienced plenty and has many stories to share. His most favourite run happens to also be his most memorable run. It was his first heliski experience and it was guided by Mike Wiegele himself, and accompanied by Crazy Canuck Steve Podborski. It was Most Magnificent – a long and beautiful glacier run where 400 consecutive turns is not uncommon. Romain is definitely our Gastronomy Guide.
John Schwirtlich Photography
John Schwirtlich
Throughout the winter season, photographer John Schwirtlich and his team aim to capture the moments that you will cherish from your epic days in Wiegele World. John's skiing roots began while growing up and working in his dad's Ontario based ski school and photography business and in 1989, he ventured out west to work as a ski instructor at Whistler. John started his photo career in 1998 and in 2002, he joined MWHS as the official photography contractor.
www.johnschwirtlich.com